Wheels on wood. That soothing sound is a giveaway — the gymnasium at the Salvation Army Bedford Day Care Center in Bedford-Stuyvesant, Brooklyn, isn't a sad, decaying space cheered up with Christmas lights and a disco ball. This gleaming setting is home to Brooklyn Skate Club, a weekly tonic for the soul.
What make this space come to life are the bodies: To the pulse of disco and rock, they swoop and swirl in time to the rhythm, some touring the perimeter with graceful arcing strokes, while others stationed in the center of the floor work out the intricacies of tighter footwork, longer spins.
For the last eight months, the photographer Jessica Lehrman has been documenting the scene at Brooklyn Skate Club — a word-of-mouth oasis that convenes every Wednesday. A meeting ground for skaters of all shapes and sizes, it draws a cast of regulars, many in their 50s and 60s, who know one another from their days haunting the Empire Roller Skating Center, a defunct Brooklyn rink. They get effusive, even tearful, when talking about skating and the tight-knit bonds that it creates.
But the word "skating" hardly does service to their skill: Movement doesn't start with the foot, or wheel; it's based on musicality and groove. Their bodies aren't stiff. Soft knees provide elasticity, and buoyancy in the joints — whether a skater is weaving expertly through the crowd, like a skier swishing between trees, or softly circling in place. These skaters are dancing on eight wheels.
Yes, some skate to stay in shape, but as Jackie Jenkins, one of the old Empire crowd, put it, there's also magic in the skates. "Rhythm touches your soul when you skate," she said. "Once you get that adrenaline in you, nothing can replace it." At Brooklyn Skate Club, generosity and humor are as important as balance.
And while their moves are a joy to behold, these skaters know that the look of it is only one aspect to their art — and perhaps not even the most important one. "I don't know of anything that is more meditative than this," said Marc Anthony Butcher, 67, a lanky writer and poet, who was once featured in The New York Times as a poem-sharing taxi driver. "Once you're out there on the wheels, you're really not competing with anybody. There's no challenge unless you want it. There's no right, and there's no wrong. If you like the song, you get up and dance." - GIA KOURLAS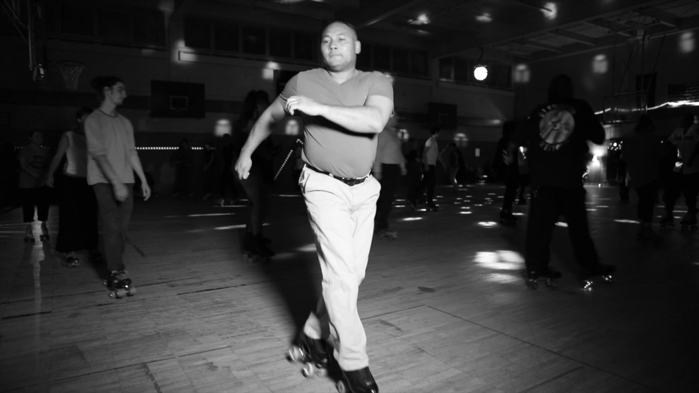 My main theory is that roller skating regularly will prevent senility or dementia. The minute you get on these wheels, your internal chemistry and your brain knows you're at real risk and then when you start moving, every twitch is to catch your balance. And once you get out there, and you start trying to bounce to the rhythm, your brain is doing something completely different because now it's having fun while it subconsciously makes sure you don't bust your behind." — Marc Anthony Butcher, 67
"Down here they call me Silver Fox. That's my skate name. I go by Brenda. I've been skating since I was 15. Me, I'm going to skate till I die. I don't care what I'm going through, when I come skating it takes it away from me. It keeps me sharp. If you fall, people are there to help you. There's no hate here." — Brenda Andrews, 68
"When I was little, I skated at birthday parties and stuff, and then maybe four or five years ago, I went skating with my friends, and I was like, this is the highest high I've ever felt. I was like, I love this — this is what I want to do. In 30 years I'll be good at it. I'm just going to skate as much as I can. I try to be here every Wednesday." — Linda Attias, 28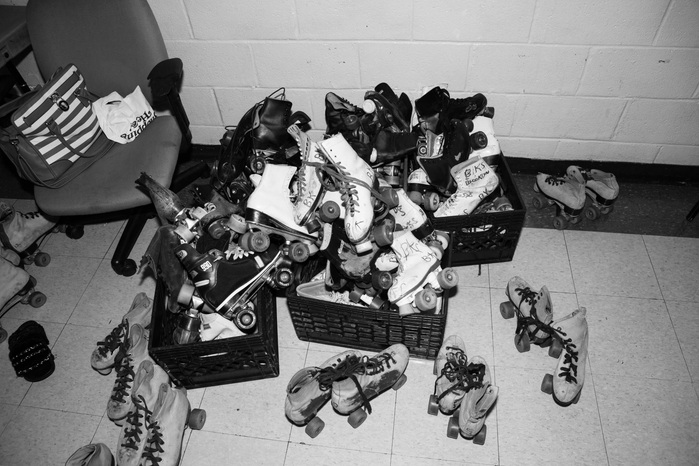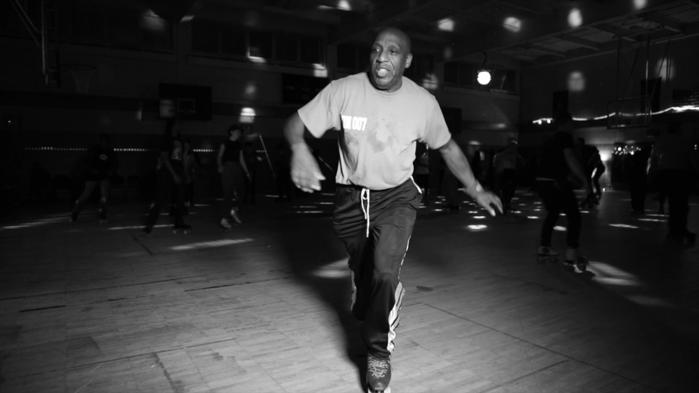 "I'm like a ref. I try to help people. I try to make sure that you don't get injured if you don't know how to skate. I don't charge. It's just me. I want to keep skating alive. That's the key." — Vincent Smith, 60
"I love how it makes me feel. I feel like I've got no stress on my shoulders.I've taught myself a lot of moves. I have a handstand move and a double kick. I go on the floor and I take both feet in the air. I have to jump into it. I've got a whole bunch of moves. I just don't know most of their names." — Ishmael Sanford, 17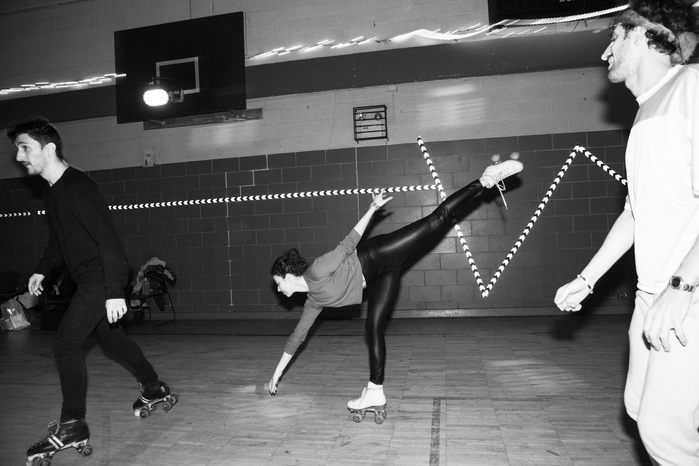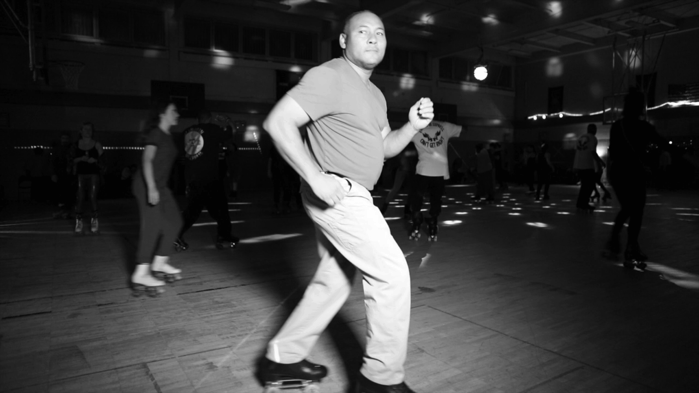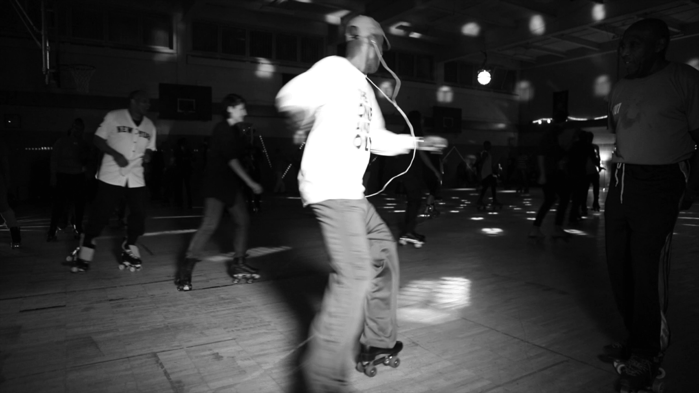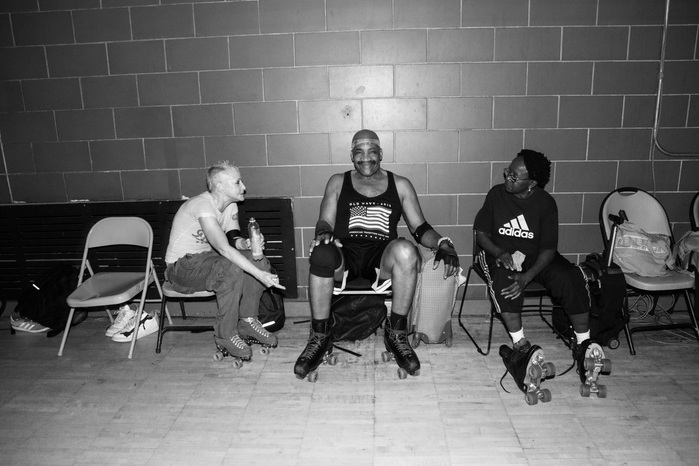 "I've skated all my life at Empire. I took a break coming here because my grandma died in March and I've been in mourning. I came here the day she died. She told me she was leaving and not coming back and I said, 'I'm doing what I love to do.' She said, 'Well break a leg and I'll see you in the next life.' " — Lavette Brown, 52